Spiritual Tours Hawaii invites you to experience the powerful Island of Oahu.
Our Tours are one of the best ways to see and experience Hawai'i in a relaxed and entertaining way, immersed in the beautiful Hawaiian culture and without the surface worry that comes from needing directions, parking, or waiting in lines. Tours are for couples, families and groups of friends who want a different kind of experience--beyond history, beyond just appreciating picturesque places.
Explore one of the most ancient and active places on the planet learning about the culture and history of Ancient Hawaii. Each excursion is different not because we change the itinerary but because it is designed to deliver a unique experience for each individual.
We will take you anywhere you want to go and if requested, we will co-create your itinerary based on what you would like to experience. We prefer to tailor the tour to who you are and what you want to experience.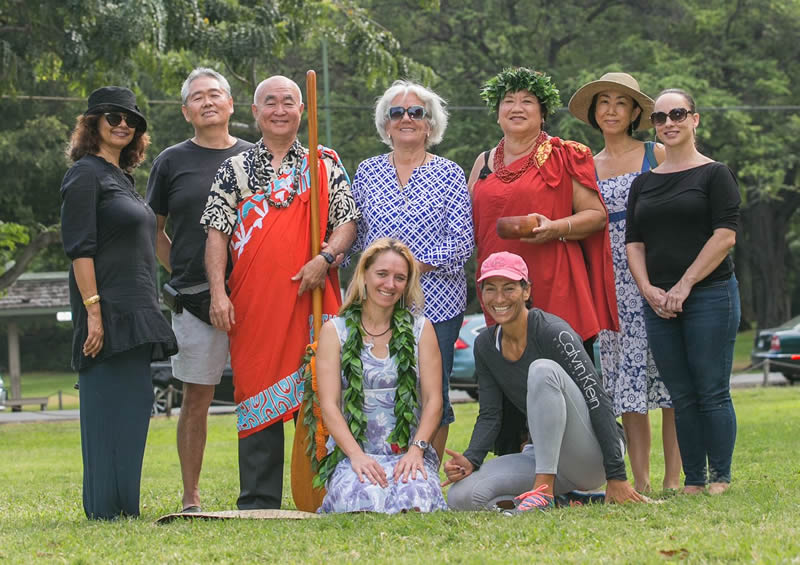 Spiritual Hawaiian Culture Tour
Kumu-Hawaiian Elder/Teacher or
Kahu-Hawaiian Leader/Minister
$277/person (6 hours) 1 Mercedes minivan. 1-6 people per van.
Accompanied by a Hawaiian elder (Kahu or Kumu), you will experience our select locations through the heart and mind of a spiritual practitioner whose wisdom, insights, and intuition will illuminate as well as inspire.
You may be introduced to legends of gods and goddesses from Hawaiian and similar Polynesian cultures; you might witness chanting, movement, prayer, song -- any number of ways in which the human spirit shines forth in the world and inspires peace and joy.
The kahu will bring aloha energy into every aspect of your tour.  As you journey with us you will come away warmed, relaxed, and ready to absorb even more of the beauty that the Islands have to offer.
Private Pearl Harbor + Free City Tour
$144/person (5 hours)
Enjoy this private visit to the historical site of Pearl Harbor and pay respect to the USS Arizona Memorial. Always skip the lines with our preordered tickets, a private driver who will accompany you inside of the visitor's center of Pearl harbor will take care of your overall experience.
FREE City tour: The King Kamehameha Statue, Iolani Palace (the only Royal palace in the US), Punchbowl Crater - National Cemetery of the Pacific, China Town, Aloha Tower marketplace, and the business district of the city.
Oahu Small Group Sacred Sites Tour
$99/person (5 to 6 hours)
Visit six historical and spiritual sites on the south and east sides of Oahu, including temples, heiaus, and parks on this 5 to 6-hour, enriching and rejuvenating adventure. You will participate in two meditations on this journey.
Nu'uanu Pali Lookout
Byodo-In Temple (Valley of the Temples Memorial Park)
Ulupo Heiau State Historical Site
Makapu'u Point Lookout over the Healing Tide Pools (near Goddess Pele Chair)
Hare Krishna Temple
Echo Whales Chamber at Kaka`ako Park
Oahu Private Honeymooners and Lovers Tour
$610/per van 2 to 7 people (5 hours)
Are you looking for the perfect honeymoon activity or romantic experience in paradise? Every couple, newlywed or lovers are looking for that memorable or unforgettable experience with his or her better half. This private tour will create a unique experience for you. Accompanied by a professional tour guide you will learn about the rich history and culture of Hawaii. You will see the most beautiful scenery on the Island of Oahu and create memories of a lifetime. You will experience the breathtaking landscapes and sites from East to South and Central Oahu. Your guide will welcome you with fresh flower lei's, chocolates and refreshments. This is the perfect private tour for honeymooners, lovers, wedding celebrations and couples with families or groups of friends.
Private Customizable Grand Circle Island Tour of Oahu
$190/per person (8 hours)
Experience Oahu through the eyes of a local private guide who will provide delightful edutainment and insight all in the comfort of our Mercedes Mini-Van.
These tours will be carefully crafted to give you lifelong heart and soul memories and offer Aloha-filled attention and hospitality.
Some recommended sites: Dole Pineapple Plantation, Green World Coffee Farm, Diamond Head Crater, Kualoa Ranch, Haleiwa Town North Shore & Famous North Shore Surf Points, Sea Life Park, Makapu'u Point, Halona Blowhole, Here to Eternity Beach, Sandy's Beach, Macadamia Tropical Nut Farm, Byodo-in Temple
VIP Aloha Style Private Island Tour
$990/per van (1 to 7 people)
This tour is carefully crafted to give customers lifelong memories, aloha-filled attention, and hospitality.
Lead by a local guide, our 6 to 8 hour private excursion is deeply experiential. It's designed to immerse you in your surroundings so you can feel the unique connection to a specific place and its particular importance here on O`ahu.
Each individual is destined to experience something unique and personal, and we customize the places you visit according to your interests and passions: nature, wildlife, history, Polynesian culture, Hawaiian culture, natural wonders, sacred sites. Guest will visit the best and most popular attractions on the island. Our vehicles accommodate up to 7 passengers, and a second vehicle can be booked for larger groups.
Private Honolulu Historical Tour
$144/person (6 hours)
Come with us and learn about the history of Hawaii which includes both natural and human history. After the creation of the islands by volcanic forces, the islands began developing their flora and fauna. Sometime around 1 AD, the earliest Polynesian settlers began to populate the islands to the 10th Century. Europeans led by British explorer James Cook arrived in the Hawaiian Islands in 1778.
We will take you to explore Honolulu City, including Kawaiahao Church, King Kamehameha statue, Iolani Palace, Hawaiian Mission Houses Historical Sites and Archives, and Bishop Museum: Hawaiʻi State Museum of Natural and Cultural History.
Entrance fees to museums are not included in the tour.
Polo Game and Private Island Tour
Only Sundays from May - October.
$277/person (5 to 6 hours)
This private tour starts at Noon and will take you to the Honolulu Polo Club official game. This offers the perfect combination of a relaxed afternoon event in one of the most beautiful valleys on the East Side of the Island and a 2 hour South & East Shore Island tour, including stops at: Nu'uanu Pali Lookout, Hawaii Kai, Diamond Head Lookout, Koko Head Lookout, Halona Blowhole, Eternity Beach, and Makapu'u scenic point. A pre-game walking tour around the stables and players' area at the Waimanalo polo field and a reserved seating under the VIP lounge will welcome you at the spectacular valley of Ko'olau Mountain Range.